Thomas the Tank Engine
I think it is a well documented fact that Brenden loves trains. He could play with trains all day and still get into bed saying, "Momma, play trains". So when we saw that A Day Out with Thomas was coming to Grapevine again this year, we had to get tickets.
We headed out to Grapevine on Sunday expecting a warm day again, but luckily we were armed with jackets just in case, because it turned out to be cold until the last half hour that we were there.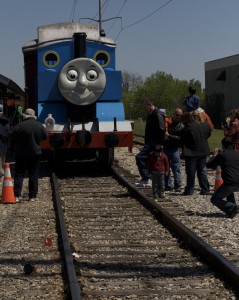 Brenden was so excited to see Thomas when we arrived. He also so the Thomas bounce house and wanted to do that right away. Unfortunately the will call booth was all the way at the back of the event and we had to pass everything to go get our train tickets. After we got our tickets we saw that Sir Topham Hatt was only going to be out for a few more minutes before going in for another hour. We decided to wait in line to see him. Brenden did well getting his picture made and didn't cry like a lot of the other kids were.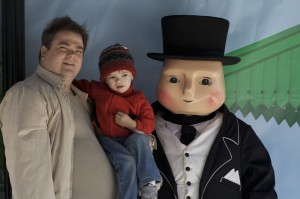 After that we headed to the bounce house/inflatable slide.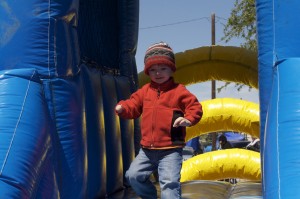 Brenden said he wanted to play trains so we headed into the tent they had set up. Big mistake. There were about 8 train tables and tracks set up for the kids to play on and Brenden jumped right in.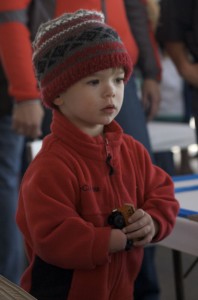 We let him play for some time but then realized we needed to grab some lunch before getting in line for our scheduled train time. Brenden did NOT want to leave and had a mini meltdown. He cheered up a little when he was told he could have a big pretzel for lunch. We were headed to find a table to set everyone up so I could go get some food when the heavy winds caused Patrick to drop his drink and Brenden's pretzel. The kid lost it. Ok, I know it's a little gross but I was trying to stop a meltdown so I immediately picked it up and brushed it off and showed him it was fine. Poor Patrick made the mistake of tearing off a piece for Brenden to eat and major meltdown turned even more major. Finally he calmed down enough to eat some pretzel and we headed off to the train line.
Brenden got a seat to himself on the train and I think he really loved it.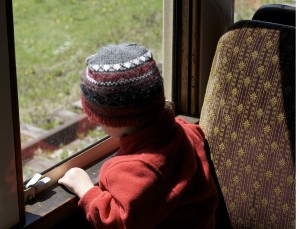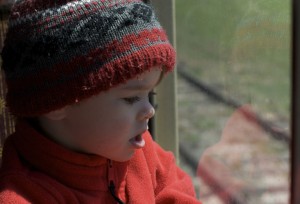 When we got off the train Brenden remembered we had said he could play trains again after his train ride, so headed back into the tent.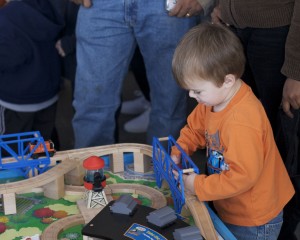 It was a great time and we learned that if he's still into trains next year, we ride the train first, then play!