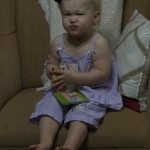 Emily had her belated 18 month checkup on Monday and is looking great. She only cried for a split second after her two shots and was done before they even had the bandaids on. Although she promptly ripped the bandaids off.
Her Stats:
Weight: 23.6 lbs 37%
Length: 32 in 58%
She's been an adorable joy. As long as you don't want to give her a bath or wash her hair!